BC-611 Inverter Power Supply
by k4che

Original design using a 88 mH toroid as a transformer by Dennis Starks.
12-2019 I took the design one step further and actually constructed, tested, used it in the field on a BC-611.
My objective: Take the circuit designed by Dennis and get it off of the work bench and put it in the field using a minimal parts count. Make it fit, make it work, and keep it simple.
Its one thing to get a circuit like this working, its another to construct it in a package that will fit the BC-611.

Remember the "package" needs to be designed for further service, not sealed.

100 volt HV section at one end using 88 mH toroid as the transformer and the 1.5 volt filament section regulator at the other.

Top cover not shown.
The top cover is needed for noise reduction.

WARNING

Beware of the High Voltage in this circuit.
Discharge filter caps.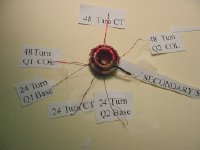 Dennis's article details the additional windings for the 88 mH Toroid.
Remember the major winding with all the turns has all ready been done.
Primary power 6 volts using 4 standard D cells. I modified (reversible) radio filament battery compartment for four (4) D cells with a PVC spacer. To keep the wiring simple I choose to use a 1.5 volt filament regulator so that primary power would feed both HV and filaments.



D Cell compartment spacer with rod removed.
Black wire is ground return.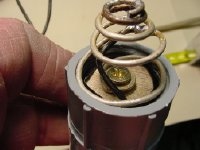 Spacer was PVC stock with wood insert. Spring was borrowed from the radio and is easily put back.




A simple On/Off Switch for the inverter at the end. Open the bottom hatch of the BC-611 and turn ON. A telephone type line sense relay can be added later.
Close bottom hatch, push to talk and check into the net.
When you are done turn off.

The lanyard is used to pull assembly out of the radio.
No regulation was used on the HV. The voltage started out high at 120 volts with fresh D cells and wound up low at 80 with used C cells.
Close enough for government work.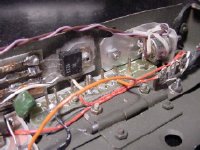 1.5 volt regulator and power distribution board.



Load tester for various power supplies.
Build one for your small power supply projects.
Here is the link to Dennis Stark's original article "Universal Inverter Power Supply"courtesy of Ralph WB4TUR
http://www.qsl.net/wb4tur/images/dcdc.htm
Here is a link to the "updated" article by Ralph WB4TUR.

http://www.qsl.net/wb4tur/images/dcdc2.htm
Conclusion: Was I happy with the design? Yes the HV voltage regulation was not a problem but the noise generated by the circuit was. I was just not happy with the slight whine that was present on the transmitted signal. So a friend of mine KA3EKH suggested 9 volt batteries, at first I was skeptical but they work fine. My next BC-611 inverter design may used C cells and use a higher primary voltage and include a line sense relay for power switching.
Here is the link to the BC-611 battery tray.
http://k4che.com/BC-611%20Box.htm


Return to Index