HUMVEE
Driver: Jeff Ciccone KG2BZ
Copilot: Emidio Ciccone WA2FSX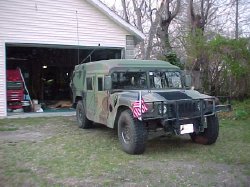 Front view of the vehicle, ready for the road, perfect for those 7-11 trips to pick up milk and bread.
"I replaced the AT803 beercan uhf antenna with the AT1108 shark fin dual UHF/VHF air (used on choppers etc - I have seen these installed by USAF CCTs and TACPs on hardtop M151s and Humvees. Oh BTW the tool boxes contain 2 reels fieldwire, GRA6 and 2 GRA39 remotes, AS2259 NVIS antenna, GRA50 field dipole, RC292 groundplane antenna, spare parts box, 1/2 case MREs, PVS5 drivers night vision goggles (for those blackout trail rides!"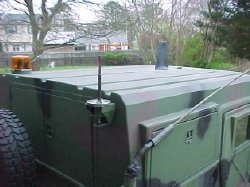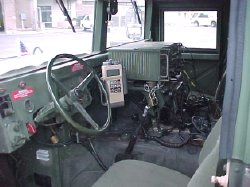 " Right now the GPS is hanging from the heater knobs. I took a while but I was determined to order a few things from Rockwell on this. after talking to three different people at Rockwell, someone sent me a quote. Another person processed the quote, another took my billing info,finally someone else faxed me the shipping info. Prices were reasonable by Rockwell standards. The PSN11 is also called the PLGR (precision lightweight gps receiver). Crude by todays GPS handhelds with moving map displays but still in use by the military. I have no idea why they made these tan the latest version is green. I have ordered a battery adapter, vehicle mount, power cord."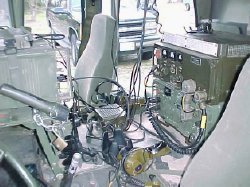 The GRC-106 position behind the drivers seat.
If you look at the dash youll see a RT246/VRC12 R442. A prc66 on top of the 246. Below the upper shelf is the VIC1 intercom with 4 stations. On the rollbar are 3 speakers 2 ls454s for the 246 and 442, also a ls166 for the grc106. There is an amplified speaker for the prc66 in front of the intercom (AM 4979 I think). Youll see a PSN11, I ordered the mount from Rockwell (talk about an ordeal!) and that will be mounted to the left of the 246. Future plans include replacing the 66 with a URC101 not sure where I will squeeze that. Antennas include the VHF FM ratchet mount on the right rear chassis, VHF FM Aux receiver ant on the right rear upper hardtop, sharkfin on the roof and AB652 on the left rear body. Future plan for the GPS ant in front of the shark fin.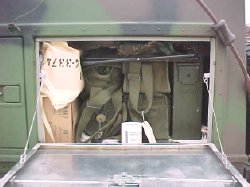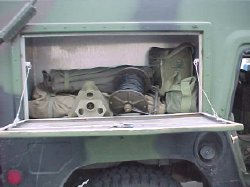 If you look at the rear doors open you'll see all kinds of neat stuff- MOD3 sleeping bag, folding cot, radar scattering camo net, camo net support pole bag, insulated water can carrier, toolbag for winch accessories, sledge hammer, pioneer saw in bag (used an antenna bag), duffel bag, tool box, drivers bag with maps, gloves, goggles,glasses, MOLLE combat medic pack.
RETURN