Portable Field Table: A copy of another table seen in a photo taken somewhere, thats all I know.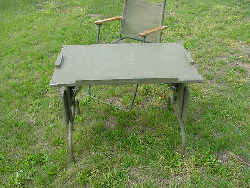 Basic table measurements are 36 inches long by 24 inches wide.Table is fabricated from 3/4inch plywood. The metal folding legs were requisitioned from the local home improvement/repair store. The metal legs were shortened by sawing the upper portion of the leg and drilling new pivot holes, the total length of the legs is 24 inches.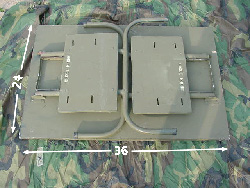 Legs were positioned on the table so as to overlap when folded. When the table is folded up it takes up little space in the duce and a half.



Watch the fingers when you collapse the legs.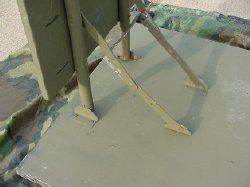 This is a picture of a dead table.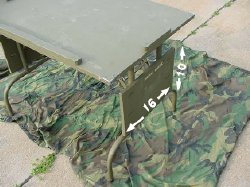 The small side panels were attached to the legs with self tapping sheet metal screws.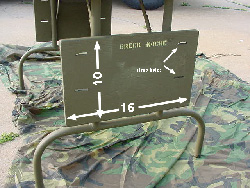 Strap loop holes were cut in the panels. What
were the loop holes used for? I don't know, put your
emergency hamfest poncho there if you want.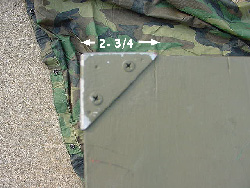 Corner protectors were fabricated from aluminum. Very important to protect those corners from the rugged rigors of hamfests and vehicle shows.


The corner protectors were attached with flat head Phillips screws, the metal was counter sinked.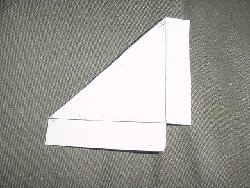 Cardboard patterns were made for the corner
protector.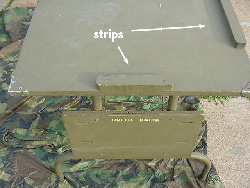 Edge strips were fabricated from one inch oak stock, again it was available at your local home improvement store(Lowes). The edge strips keep the gear or your lunch from falling off the table, very popular on maritime installations and British tables.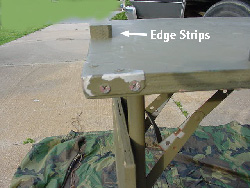 As soon as you finish your field table you want to drop it several times to give it that "seasoned"look.
An alternative action would be to throw it in the back of the vehicle several times.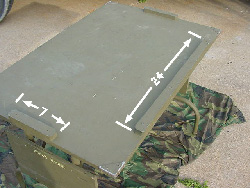 Edge strips prevent beverages from falling off.




The Chair is a British Officers Mess Chair.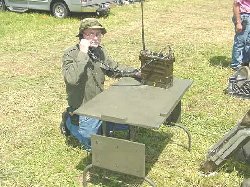 Here is a nice shot of Joe W3KJT with the Mark II version. Joe added two inches to the height and other improvements.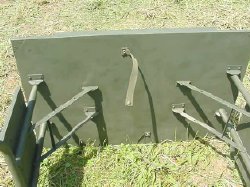 Straps were added on the bottom of the Mark II made by W3KJT
Note the careful inlay of the corner protectors. Joe used commercial protectors available from a building supply store. These protectors are steel and much more rugged. The Mark II with its improvements should survive many ham fests and military rallys.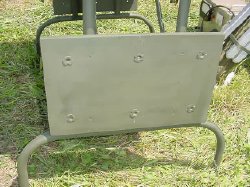 Quarter inch bolt inserts were mounted on the side panels to mount future accessories.
RETURN