D-1 Sextant Bubble Problem
Problems with Surplus D-1 sextants are usually associated with the bubble that provides the artificially horizon. Most of the time the bubble is too large and can not be adjusted.
If you want to add fluid see page 3.
Here are two procedures that you can try. The first procedure is on this page. The second procedure is on page 2. I do not have a maintenance manual for the sextant and all procedures are expermental. The procedure on page 2 worked on my sextant. The simpler procedure on this page for reducing the bubble was developed for those to try and has not been tested because I wasn't smart enough to try it the first time.
Locate the bubble chamber, note that the rear of the chamber has a small cover. What you are going to try and do is open this little cover and let some of the fluid out.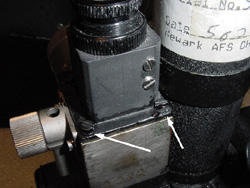 Loosen the four screws holding the chamber.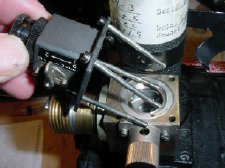 Remove the top light defuser/lens section.

Pull the chamber off of the sextant, there is a rubber seal on the bottom of the chamber which will make it difficult to remove..
DO NOT remove the large bubble adjustment knob or any other pieces at this time. Just remove the entire chamber intact.



Remove the small rear cover, note that it has a rubber plug.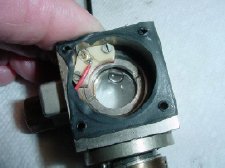 Try adjusting the bubble, you can see the bubble progress without putting the chamber back on the sextant. You may lose a small amount of fluid out of the rear orifice that the rubber plug covered. If this works then put everything back together in reverse order. See Page X for more info.
Go to Page 2 if the bubble will not adjust
.
Don't have a D-1 Sextant? Then try Fair Radio.
Page 2
Page 3
RETURN