Hallicrafters OPS/FM-1B Transceiver



The Hallicrafters FM-1B bears a very close resemblance to the HT-1 Village Radio. More comparison photos on the last pages.
Specifications:
(Taken from TO 094-904892-868)
Weight: 4.4 pounds with batteries.
Frequency: 148-170 Mcs
Modulation: FM Voice
Deviation: Wideband Units 15 Kcs, Narrow band 5 Kcs
Channels: Single or Dual Channel
Power: Eight standard D cells or two nickel-cadium
RF Output: 1.5 watts
Sensitivity: (20 db) 0.6 UV minimum
Crystal type: Similar to HC-25, 6pf
Receive crystal: FC-0.455 divided by 9.
Transmit crystal: HC-25. 32 pf, FC divided by 18.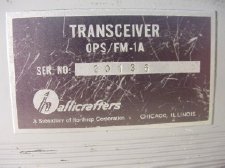 Data Tag in English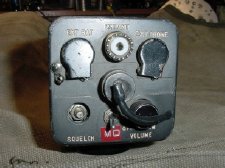 Top Controls


The screw on cap removes for access to the allen screw which
secures the chassis..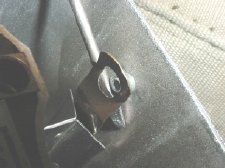 The secret to getting the radio out of the
chassis to to lift this holding bracket
located near the bottom.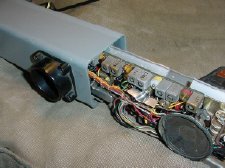 The chassis slides out.

Overall
a pretty robust construction.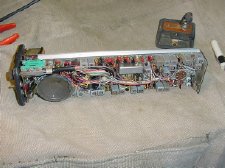 One piece chassis with a single speaker used as an earphone and microphone.
Continued on Page 2