Antenna Feed Switch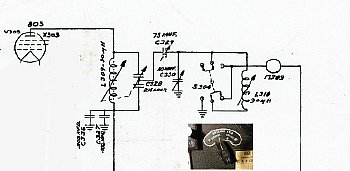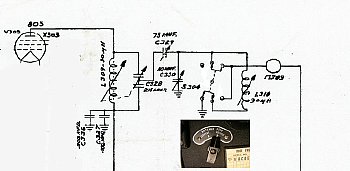 Low Impedance Antenna High Impedance Antenna
Clete Whitaker, WB2CPN wrote: "The switch marked Voltage or Current could be relabeled High or Low Impedance looking into the antenna."
Additional Comments by Clete.
"Looking at the schematic drawing of the transmitter, three things I'll mention, but first I'll say that is the most versatile antenna tuner I can remember."
Video PA Tuning( Loading Coil)
1. "In the Current mode, C-330 and the Variable Inductor going to the meter, and then to the antenna, make up a series-resonant circuit, and is adjusted for Maximum current in the antenna. This could be high if the Impedance is low."
2. "In the Voltage mode, C-330 and the Inductor make up a parallel-resonant circuit. The top end of a parallel-resonant circuit is a very high Impedance to ground. Very high voltages can be found there. Again, C-330 is adjusted for Maximum current into the Antenna, which may not be much. We're talking high voltage, not high current."
3. "In some applications I've seen the antenna current meter shunted by a knife switch. They last longer, and why use it no one's reading it ?" Clete Whitaker