Ed, NS3E's
Latest Key Projects

NOTICE: Refresh and reload this page for lastest projects.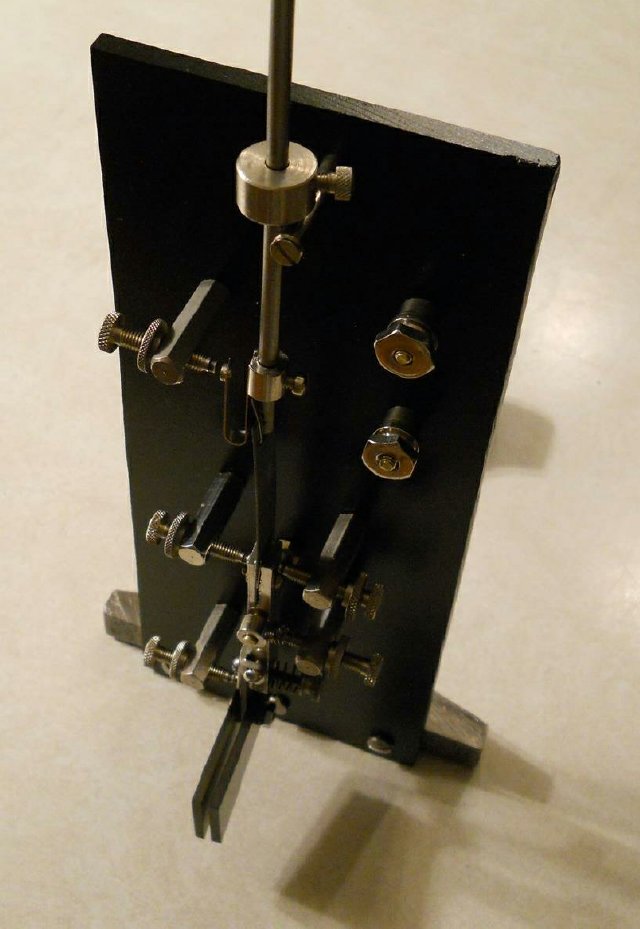 NS3E Photo October 2015
THIS KEY IS KNOWN AS THE VERTICAL VIBROPLEX OR "WIRE CHIEF." ANYONE COULD OBTAIN ONE, IF THEY WANTED, BUT THEY WERE MADE WITH RAILROAD STATION MANAGERS IN MIND. EARLY RAILROAD TELEGRAPHERS USED STRAIGHT KEYS, BUT CARPAL SYNDRONE WAS A PROBLEM AND DIFFERENT ATTEMPTS WERE MADE TO CORRECT THE DISABLING FACTOR. BUGS WERE INVENTED TO MAKE SENDING EASIER, AND SOON MOST ALL RAILROAD OPERATORS HAD ONE. MOST EVERY RAILROAD STATION HAD 3 OR 4 TELEGRAPHERS EMPLOYED AND A STATION MANAGER. STATION MANAGERS USED THE WIRE CHIEFS BECAUSE THEY TOOK UP LESS SPACE ON HIS SMALLER DESK.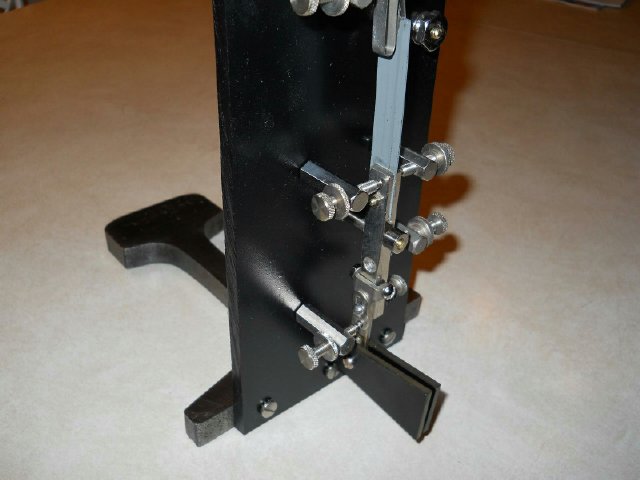 NS3E Photo October 2015


A FELLOW COLLECTOR FRIEND OF MINE LIVED IN MISSOURI NOT FAR FROM THE "CEDAR RAPIDS BUG" MANUFACTURING CO. THEY WENT OUT OF BUSINESS AND MY FRIEND WAS FORTUNATE ENOUGH TO GET A LARGE QUANTITY OF PARTS THAT WERE USED IN THEIR BUG MANUFACTURE. HE SENT ME A NICE GOODY BAG OF PARTS KNOWING THEY WOULD BE PUT TO GOOD USE.

A VERTICAL BUG IS BASICALLY THE SAME AS A HORIZONTAL ONE BUT TAKES UP LESS SPACE. THEY ALSO HAVE A CERTAIN MYSTIC QUALITY AND ARE MUCH SOUGHT AFTER BY COLLECTORS. VIBROPLEX, THE ORIGINATOR, ONLY PRODUCED THEM FROM 1917 TO 1919. THE ORIGINAL WIRE CHIEFS HAD A HEAVY IRON, "U" SHAPED BASE TO HOLD THE KEY UPRIGHT WITHOUT TOPPLING OVER.

I MADE THIS KEY USING PARTS FROM MY "CEDAR RAPIDS" PARTS COLLECTION, AND FABRICATED PARTS OF MY OWN. THE BACKBOARD IS ¼" PLASTIC STOCK AND THE HEAVY BASE IS QUITE UNIQUE. SOMEWHERE, A MACHINEST TOOK A SECTION OF HEAVY RAILROAD RAIL AND CUT OUT BREAD SLICE TYPE PIECES. I USED ONE OF THE SLICES AS A BASE FOR THIS KEY. SO NOW, YOU HAVE A STATION MANAGER TYPE KEY MOUNTED ON A REAL SECTION OF RAILROAD RAIL. THE VIBRATING PENDULUM SHAFT IS LONGER THAN NORMAL TO SLOW DOWN THE SPEED OF THE KEY QUITE A BIT. NS3E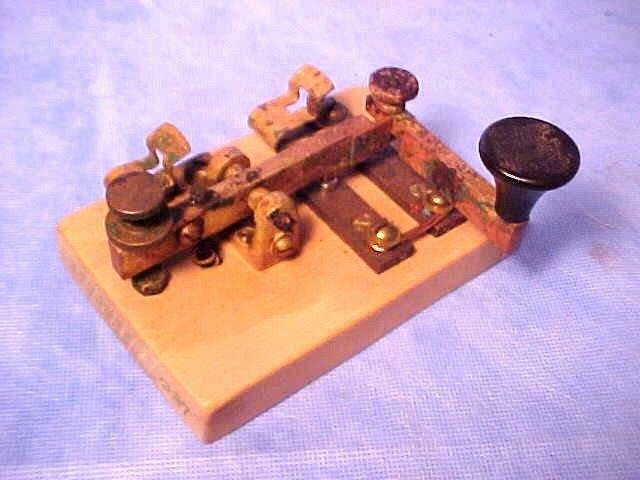 Original owner photo.

J-3 WWI Telegraph Key Restoration Project by NS3E.

The photo above is the key as delivered to me. The J-3 was a key used in a WW1 telegraph box and the long lever had to be folded to close the lid. When extended, you will notice that the lever is quite long, making it similar to the Swedes. The previous owner retained a picture of it on his website and declared it was for display only and not workable. Here are three pictures of the restored J-3 basket case as well as the key before restoration. These keys are semi-rare and command good prices where and when they show up. I paid little for this key and I knew it was a basket case, but was surprised to find out just how bad. The 3 indicates 1903 and it undoubtedly had sat out in the elements for many years. Just about all working parts were solidly frozen and I had to use a torch to free them. Even at that, the main part of the lever snapped off and I had to fabricate a new one All the parts that you see are original except the thumb knobs, several screws, and the main section of the lever. Notice the big Fahnestsock line clips

Sept 2015 NS3E Photo

J-3 key after restoration. Just about all working parts were solidly frozen and I had to use a torch to free them. Even at that, the main part of the lever snapped off and I had to fabricate a new one All the parts that you see are original except the thumb knobs, several screws, and the main section of the lever. Just about all working parts were solidly frozen and I had to use a torch to free them. Even at that, the main part of the lever snapped off and I had to fabricate a new one All the parts that you see are original except the thumb knobs, several screws, and the main section of the lever. Notice the big Fahnestsock line clips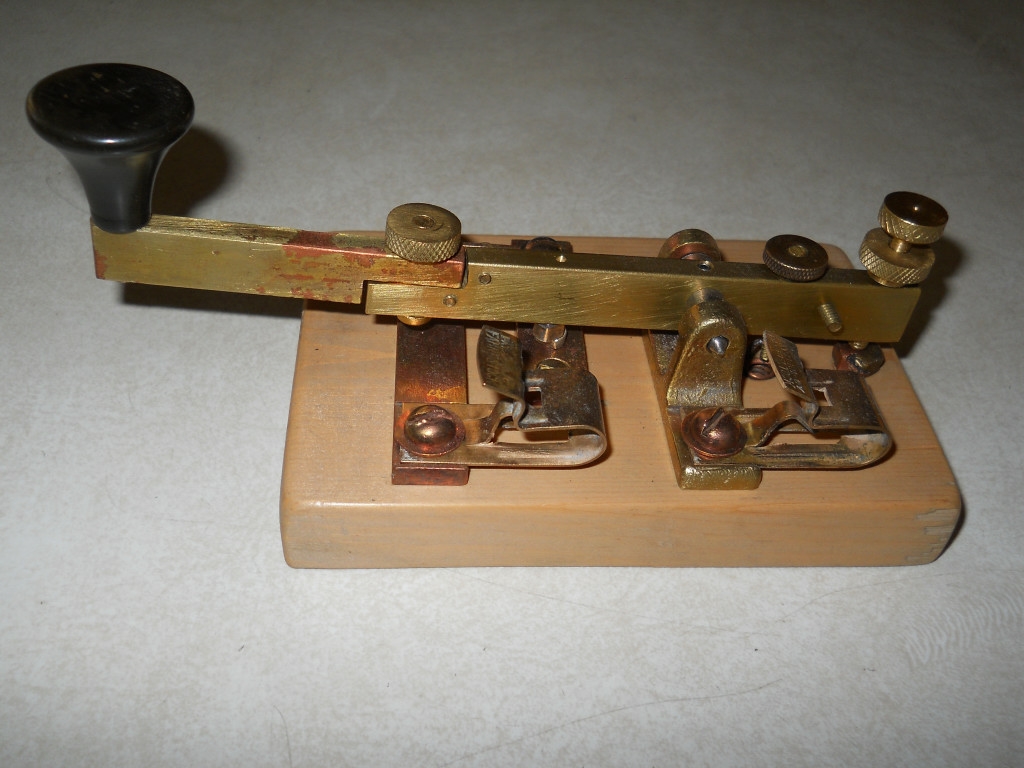 Sept 2015 NS3E Photo

The large Fahnestsock line clips are shown in this photo.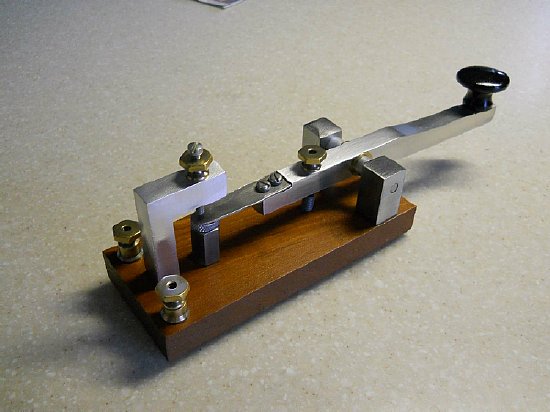 August 2015 NS3E photo
This latest key is a version of the Swedish military type. They all are built basically the same style but differ slightly in manufacturing parts. All Swedish keys are of the pump type and feature the front tab contact points. All have long levers that make for very smooth sending. These keys are beautifully made of quality materials, are a dream to operate, and command a high price on the used marketplace.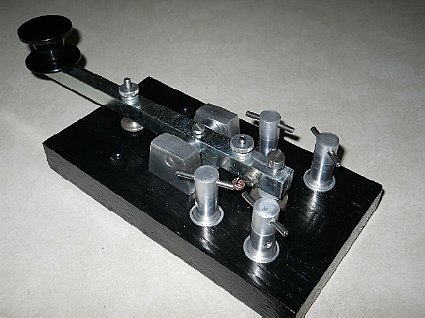 June 2013

Pictured is a reproduction WW2 Japanese naval key. Most all of the WW2 Jap keys were of the English pump type and are very well built with excellent materials. The naval type tends to be larger and a little more robust than the army type. The naval keys usually have a slate base where the army type is wood or plastic. Both types feature the unique "T" line posts. These keys were made to far outlast our cheaper J-37 & J-38.






June 2010

Here is the second key that I was telling you about. With minor differences, it is identical to the first (aluminum), but this one of brass. The base is thinner, and the lever is a little thicker. Each key took me a couple of weeks to make (on an on & off basis), And, I spent about 20+ hours on each. It's a labor of love, so time is not important.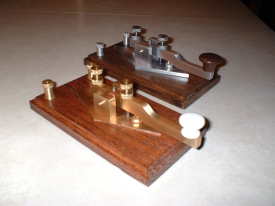 June 2010. The key is made of hardcast aircraft aluminum and steel. All aluminum parts except the line posts are hand crafted, and the adjusting screws were made on my lathe and of steel. The line posts machined out of aluminum also. The diamond shaped base of the key is reminiscent to the base types of some pre 1900 camelback keys. The basic lever and uprights are typical English type pump key. The lever itself is lowered in the rear to mimic the shape of the very early US step-lever keys. The contacts and return spring are like the basic US Triumph keys.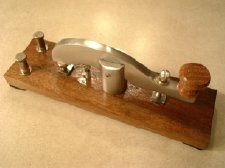 March 2009. This one I call the mini-camelback. The lever and yolk are hardcast aluminum. Spacing is attained by adjusting the contact screw and setting it with the lock nut. This saves clutter with other means of lever travel. Don't think I've seen anybody else do it this way. Maybe original, Huh?

March 2009. This is a reproduction of a Palmer Hallwhich was one of the very first keys appearing in the 1850's. The knob was ivory instead of resin or plastic. The lever, as well, was solid brass. In my reproduction all is brass with the exception of the contacts between the lever and the base. The lever contact is an adjustable set screw, and the base contact is a steel flat headed bolt. I rough cut the base and lever out of a plate of 3/8"brass using an electric hacksaw. Rough shaping was done with a bench grinder and the final shaping was done with hand files. A long, tedious project, but I'm happy with the results.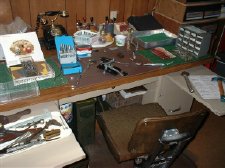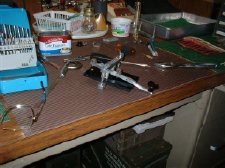 NS3E's final assembly desk.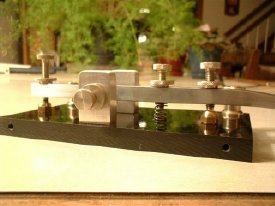 December 2008



Pictured key is an original design utilizing NOS key screws and knurled nuts, a 1/4" lever fashioned from steel bar stock, upright yoke posts from hard cast aluminum stock, and a black plastic base from an old relay. This style of key is very light and positive to the touch and several old keys of note are similar. CLICK TO ENLARGE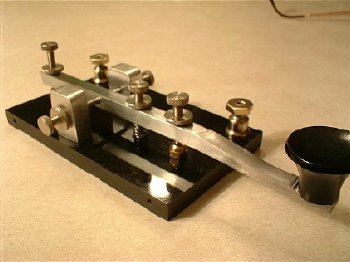 August 2007. Here I am again. The spirit moved me, so I built another key. I had fun with this one and it works extremely well with perfect feel. As I mentioned before, a longer lever makes for a softer, more comfortable operation. That is why the Swedish keys have long lever and are highly prized for their operation. The base is stainless steel, the lever is copper, and everything else is brass. I made all the thumb screws and nuts with my lathe. Cut the lever out of a grounding strip. 73 NS3E




August 2007. Here is my Titanic key. A very close copy of the original. Spent more time on it than any other key, but it was fun. The big knife switch on the left side was used to kill spark power to the contacts if they welded together. A light weight cord was attached to the small eyelet on the knife blade and went up to the ceiling. A tug on the cord would lift up the blade. Operators had to be very leery of high currents. This is the only key I know of that has a separate additional set of contacts. Some experts? say they were used to mute the receiver while transmitting, but I don't agree. I agree with the second half of the experts who say that these separate contacts were used to run a remote monitoring system to the captain's quarters, or the bridge. Key parts are brass and brass plated steel, the base is Mahogany stained oak, and knobs with skirt are homemade wood like the original. 73' Ed. NS3E



June 07. Did something interesting lately. A collector friend of mine in Missouri had a friend who worked at a key manufacturing company nearby that closed their doors. The worker came away with a large quantity of parts to make the "Cedar Rapids" bug by the Electric Specialty Co. of Missouri. My friend, knowing that I homebrew, sent me a box full of bug parts. Thumb screws, line posts, springs, etc. etc. In the box was an unfinished main yoke made of copper that would have eventually been plated nickel. It didn't take me long to realize that I had enuff parts to make a complete "Cedar Rapids bug, with the exception of the heavy iron base. My friend had a base template and sent me a copy. I cut an iron base out of a heavy piece of 4" x 6" angle iron that I had in my garage. The result is in the following pictures. The bug works extremely well and looks great. I could have nickel plated the yoke, but I chose to leave it copper color for a more pretty result. The base painted Hunter green, the yoke in copper, and the other parts nickel, make a good combination.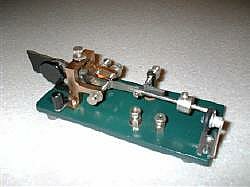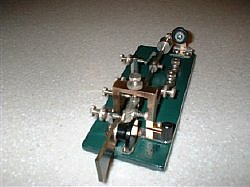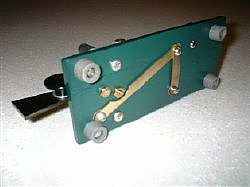 photo by NS3E
April 6, 2006.The new key is a heavy brass Phelps which is a copy of the famous Civil War"Camelback key." It was hand cut out of a piece of 3/8" brass plate. It is about 1/16th thicker than the original Phelps and thereby heavier. Most keys of the period (Civil War) were quite massive like this one, and some also were 3/8" thick in the base and lever. It is my understanding that even though machinery was involved in the manufacture a lot of the very early keys were tooled quite a bit by hand.

photo by NS3E
October 6, 2005. "Here is the "Jules Verne" key I was telling you about. The lever is walnut and the front contacts are basically Swedish. If you ever watched any of the Jules Verne movies, you would know that this key would look at home on his submarine, Nautilis, or his airship (Master of the world). Contact is made from the lever spade by wire to the lever tension spring, and over to the right binding post. It has an extremely nice feel."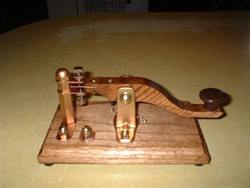 photo by NS3E
July 12, 2005. Got a call from Ed, NS3E- - - Ed wanted to stop by to show me something. Since I was working on an old Collins Antenna Coupler that was driving me nuts I welcomed Ed's visit. We sat around the kitchen table and he hands me a bag. I open the bag and pull out this beautiful home brew key .
I carefully hold the key admiring the craftsmanship knowing full well that Ed's shop does not have a layth or mill of any kind. Running my fingers down the polish metal he announces that he made it for me and that the key is a gift. I was taken back . . . I carefully held the key and examined it, turning it over and over . . . Even the bottom of the key was perfect with inlayed wiring. As far as I can remember there have only been three hams that have made me something and Ed is the third one. Hams have given me items but hams that home brew are a little stingy with their time.
Ed names his keys and the name of this particular one is "Battery Cap Key". I believe Ed gets his inspirations for some of his keys at the local flea market, in this case the main yoke of the key is an old antique awning bracket. Thank you Ed for the thought, and your time, and your patience.
.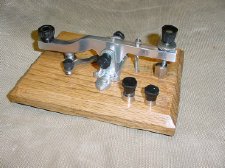 This "Battery Cap Key" will be used on my HRO station with the homebrew transmitter.




July 27th 2005





"The key is a combination of a turn of the century English pump key, and a turn of the century French Ducretet design. Several of the early French keys had holes drilled in the larger levers. Also, some of the early Italian designs were likewise. I don't presume that it was done to lighten the key because weight in a key is desirable. Maybe it was with the idea that the metal you save out of every 4th or 5th key would be enuff for another? If so, it was a silly way to economize. A lot of the early keys had key down contacts as well as key up contacts. I don't really understand the technology involved, but put them on this key as well. You will notice that I used up the second yoke that I got at Spence's. Maybe I'll be lucky and find a few more." NS3E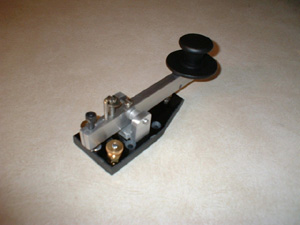 March 2005
"This is a copy of Brach's WW1 aircraft key #6. I bid on one at
eBay, but knew it would go for bigger bucks. It went for nearly $300,
so I decided to make my own. It's a good copy if you don't look terribly close."


March 2005





"The small key on the round walnut base is my
own design based on best points of several makes.
Everything is junkbox parts except the red knob."