Field Table,Portable M-7388(Mark 84)
Mission Overview: Mini Field/Chart Table. The table top can be detached from the legs for easy transport.Constructed of plywood and some "borrowed" legs.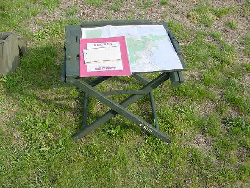 This little fold up field table is a perfect chart table to hold your Secret documents during the local ham fest. Or to hold the map showing all the local ham fest food venders or Japanese Rice Box dealer locations.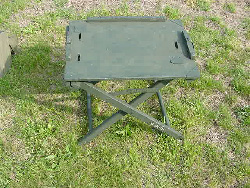 The chart table is constructed of one half inch plywood and rests on fold up legs. The plywood table was cut to fit the available legs. This particular table measures 21 by 15.5 inches.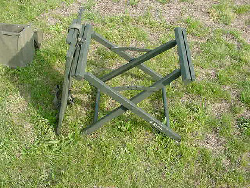 The fold up legs were taken from a "Directors chair that was requisitioned from the local Walmarts(that's chickenland lingo for WalMart)
Additional Note: Delaware(Chickenland) has the highest ratio of Walmarts per county than any other state.
Straps are attached to the table to secure it to the leg structure.
Straps are held by screws and a small piece of aluminum strip.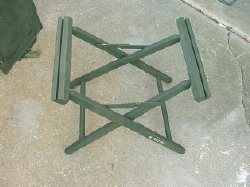 Your next mission should you accept it is to go find a perfectly good "Directors Chair" and rip it apart so that you can make one of these tables. Good Luck
Bottom of the table showing strap locations.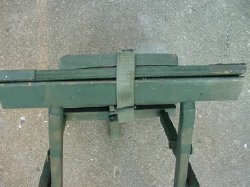 A single strap holds the table on each side.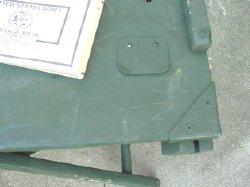 Hold down clips are attached to the table to secure documents in windy weather.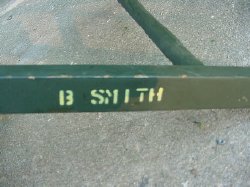 Stencils add a mil touch.
Another view of the hold down tabs.
Corner protectors are constructed from aluminum. Counter sink holes. Use #4 flat head screws.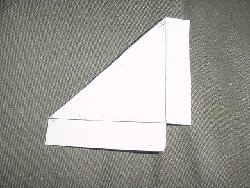 A pattern was made for the corner protectors. Each side is two and one inches in length.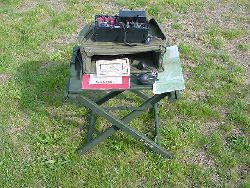 Fully operational, perfect for those stealth operations at the hamfest.
RETURN